DISH HEAD, STRUCTURAL SHAPE
C1 – Formed heads, Expansion joints
We supply both Seamless and Welded construction by Hot forming or Cold forming process.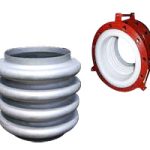 PRODUCTION RANGE OF FORMED HEADS

Type: Semi-Ellipsoidal 2:1, Torispherical, Flat Head, Hemi-head, Concentric Conical Head, Eccentric Conical head
Max. Diameter: 12,000MM by Cold Spin process (Max. Diameter of Seamless Head; 4,500MM)
Max. Thickness ever supplied: 254MM
MATERIAL RANGE
Carbon Steel ASTM A36, A283-C, A572-50, JIS SS400
As rolled or Normalized Carbon Steel, ASTM A285, A515, A516, BS151-223-490B, EN P265GH, JIS SB410
Quenched and Tempered steel, ASTM A537, JIS SPV 450, SPV490
Low Alloy Steel, ASTM A203, A204, A387, A724,
Nickel, Molybdenum, Chromium and other grades.
Stainless Steel
Austenitic Stainless Steel
Ferritic Stainless Steel
Martensitic Stainless Steel
Austentic-Ferritic (Duplex) Stainless Steel
Nonferrous Metal
Aluminium Alloy: Alloy 5083 , Alloy 6061
Copper: Deoxidated Copper, Naval Brass, Aluminium Bronze, etc.
Nickel: Copper Nickel, Alloy 200, 400, 600, 625, 800HT, 825, 904L, C276, C22, etc.
Titanium: Unalloyed Grade 1, Grade 2, Grade 7, Grade16, etc.
Cladding Steel (Hot Rolled Bond and Explosion Bond)
Carbon and Low Alloy Steel + Stainless Steel
Carbon and Low Alloy Steel + Nonferrous Metal (Al, Ti)
Stainless Steel + Nonferrous Metal (Al, Ti)
C2 – Structural Shapes
Rolled beam, channel, angle, flat bar, round bar for plant construction, infrastructure structure, Bridges and non-pressure parts of pressure equipments. Dimension standard range from Imperial Series (Inch size), Metric Series & Euro Norm series (HEA, HEB UPN, IPE, PFC,U etc) and welded build-up beam for size above 600mm (24″) or non-standard type.

Our strong international connections with mills and stockist enable us to supply assortments of structural shape in accordance with customer demand in project specification and project schedules.